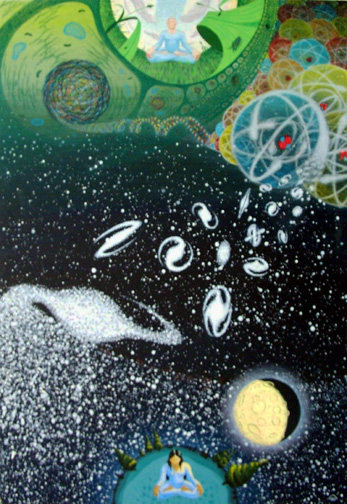 "One View of the Universe," acrylic and pencil illustration (fall 1986).
The file takes quite a while to load, I know, but even at that it lacks much of the detail of the original work. Still, I trust you can get an idea of the sort of idea I was trying to convey. By way of explanation, if you've seen "Animal House," you might apply the subtitle, "Pinto's Vision." Quantum mechanics teaches quite a different view of universe, I grant, but I find the present one more aesthetic. A more complete version of the work would show different scales of time, with the smaller worlds whirling at many multiples of the speeds of the larger ones.
---
See some more graphics.
Return to Tom W. Bell's Homepage.
---
(C) 1986-02 Tom W. Bell. All rights reserved. Fully attributed noncommercial use of this document permitted if accompanied by this paragraph.
---
"One View of the Universe" - tomwbell@tomwbell.com - v. 2002.04.18